Masonry support
Fixinox lintels and brackets anchors are used to support the masonry in double wall or external thermal insulation buildings. It can be used for various cladding materials : bricks, masonry blocks, rubble stone and even precast concrete panels.
For small openings, simple « L » lintels, supported by both sides of openings can be designed.
For wider openings and for every other case, specifically designed brackets are welded on the lintels to be fixed on the support.
The whole system can be chosen as visible or non-visible according to the architects' choice.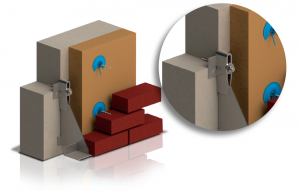 Advantages
Quick and easy fitting
Detailed offer containing brackets, lintels for every situation
Layout sheet
Stainless or galvanized steel
RAL coating on request
Short production time
projects
Nelson Mandela School
READ MORE